Why SA360/DV360
Leveraging LTV On SA360 Within The GMP Stack

Optimizing for lifetime value stimulates growth by eliminating short-term revenue noise, by amplifying the most valuable assets and by seeking for additional cost-effective business.
In this article, we determine:
Who should leverage lifetime value and the process from data acquisition to data activation.
How can an organisation leverage LTV depending on where it stands today with Paid Search?
The step-by-step process to connect CRM data to media channels utilizing some of the Google Marketing Platform's most advanced capabilities.
Starting Off With LTV: From Data Acquisition To Data Activation
Finding patterns that generate loyal customers and significant revenue per user is key. According to Google, ''Not all customers are Kings. 5% increase in retention rate can yield a 25%-95% increase in profits.''
However, lifetime value is not for everyone.
Firstly, LTV optimization can generate completely different revenues depending on the business vertical. Corporations that will most likely benefit from such an alteration are the ones with:
Customers with a high purchase rate Distinctive customer segments that exhibit divergent behaviours Secondly, it requires access to a team of savvy marketers, a mature data infrastructure and most importantly, an educated board.
Like the path-to-purchase journey, shifting the efforts from return on ad spend or cost per acquisition targets to current AND future revenue goals, it requires an internal change in mindset. Getting the machines to spit the data is only the beginning. As seen below, there is a complete process of understanding and fine tuning the input before new layers of information can be leveraged for optimization purposes.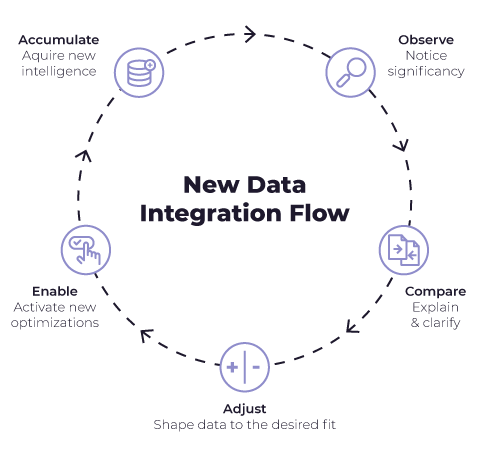 Utilizing LTV As Primary Or Secondary KPI For Paid Search
Depending on the goal of your business, lifetime value may not be the main priority. If that's the case, it can be leveraged as incremental value that you want to take into consideration when optimizing.
What this means, is that once you have estimated LTV from your CRM, importing this new input into your media platforms will widen your perspective in terms of business outcomes. For example, if two data sets offer the same cost per acquisition or an identical return on ad spend, you could fully fund the one that also generates a higher LTV.
To aggregate your generic client lifetime value to paid search, a few steps are required to ensure the right value is attributed to the right visitor. As seen below, accurate LTV reporting at the query level requires two things:
Breaking down the lifetime value at the category/product level
Estimating LTV for prospects according to the lead to sale rate
The Google Marketing Platform Architecture Step-By-Step
BigQuery is a highly scalable data warehouse which acts as a central piece of Google's Cloud suite. To build the flow, BigQuery will be used to store and cross-reference conversion data with a lifetime value before it's pushed back into SA360 via the Google Marketing Platform's APIs.
Step 1: Enabling BigQuery's Data Transfer Service
This function will allow you to directly send all SA360 accounts data into BigQuery automatically while scheduling load jobs daily.
Step 2: Building The Conversion Table
Once you've connected SA360 to BigQuery, simply build a table in BQ that contains the Floodlight Order ID / Conversion ID depending on the advertiser's Floodlight instructions along with the Conversion Visit External Click ID (gclid).
Step 3: Estimating The Lifetime Value
To attribute an LTV to a sale or a lead, similarly to step 1, you will need to import your CRM data into BigQuery using their third party data transfer service. You will be able to determine the LTV by joining SA360 data to your CRM data through the order ID using an SQL Query.
Step 4: Leveraging LTV For Prospects
This step is optional if you are just getting started with LTV but it's necessary if you have a desire to estimate the lifetime value of a potential client. To generate LTV for a prospect, like in step 2, create a table with the Product ID along with the gclid. Then, as done in step 3, join the data with your CRM's close rate which will give you the potential LTV for a qualified visit.
Step 5: Importing The Data Back Into SA360
To import LTV data in SA360, you can leverage SA360's or Campaign Manager's API. Campaign manager's API is always preferable so you can activate LTV across all media placements and take advantage of advanced attribution capabilities. To do so, the main requirement is a conversion lag of less than 24 hours. For technical reasons, If you are in an industry with a bigger time lag, you will only be able to leverage LTV within SA360.

Finally, before you can deploy your LTV bid strategy, you will need to set up Floodlight activities to track offline conversions. If you have estimated the LTV value for a prospect, formula columns in SA360 will be handy to calculate the total potential future value (prospects + clients) or combine data according to your business goals. If you find all this information is hard to digest, we recommend consulting Google's presentation on demystifying the whole process with ease.
Final Thoughts
Most large advertisers have access to SA360, DV360, BigQuery and GA360 but very few are leveraging the full stack capabilities. As explained in our previous article, if you have a nascent digital maturity and insufficient access to the right resources, the Google Marketing Platform won't improve your ROI.
Perhaps, bidding towards the net profit that is derived from the entire future relationship with a customer will allow your business to shift away from retrospective methods and move towards a progressive analysis of future earnings.